Your First Visit
We pride ourselves on giving beginner skiers & snowboarders a great intro to snow sports.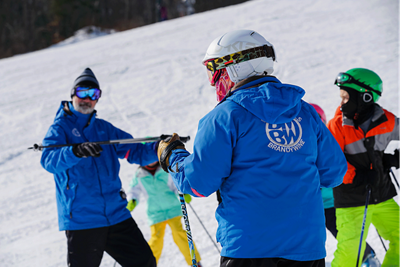 First Timer's Guide
Whether this is your first time skiing at Boston Mills and Brandywine, or your first time skiing ever, here are some tips that can help make your experience a smooth one.
We strongly suggest that you start out with lessons. Whether that means a one-time lesson through our Beginner Intro, a current special, or multiple-lesson packages like the kids' programs, you can explore all of the current options through the Plan & Buy section above.

We do rent equipment (skis, snowboards, boots, bindings, helmets, and poles) here, and you probably already have the majority of what you need to make your first visit a fun, comfortable one. For hints on what to wear, from head to toe.
Facilities
Every ski area, whether a day (no lodging) or destination (lodging) area, has the same basic facilities:
A mountain with ski lifts to transport skiers to the top.
Trails of varying difficulty to ski back to the bottom.
A base lodge with food service, restrooms, ticket window, ski school, and Ski Patrol.
Parking lot.
At the mountain or nearby are ski and rental shops, and, if a resort area, lodging, restaurants, bars, shops and services.
Previous tab
Previous tab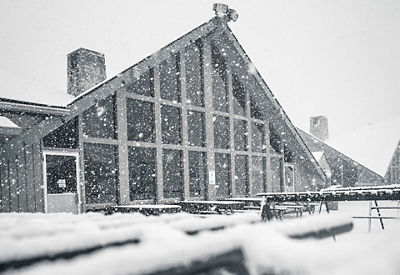 When You Arrive & Where To Go
When you arrive at our resort, you will want to park and then head in to the base lodge. We highly suggest that you arrive at the resort at least 45 minutes before the scheduled time of any lesson that you want to take, to give you plenty of time to make your purchases, pick up your rental equipment, and meet your lesson as described below.

At the entrance to the base lodges at Alpine Valley you will find the ticket windows, and you will need to stop there to purchase your Snow Pass and/or packages with rentals and lessons. If you need information or advice on how to get started, stop by Guest Services first so we can assist you.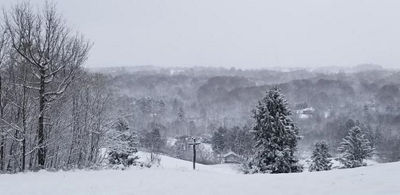 Rentals
After you complete your purchases at the ticket window, you will proceed to the rental department to pick up your equipment. The ticket sellers will be able to direct you to the rental department when they give you your rental forms.
For safety reasons, you need to fill out the form completely and make sure that you accurately answer all questions about height, weight, and ability.
Changing Areas & Lockers
This season we will not have lockers available in order to ensure the health and safety of our guests. We ask that guests get dressed at home, store their equipment/ bags in their vehicle, and leave unnecessary items at home.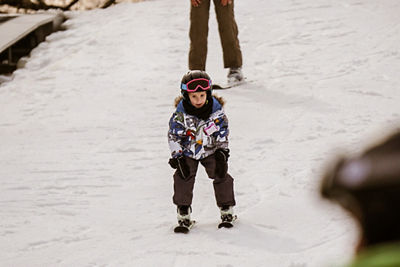 What To Wear
What to wear skiing/snowboarding is a key element to your pleasure factor for the day. Perhaps you are an experienced skier or maybe this will be your first time. No matter the temperatures or conditions, you can be comfortable when you wear the right thing.

The good news is that you probably already have most of what you need for a day out on the slopes. What you don't have is usually easily borrowed from friends or family. If you buy anything, it should be a pair of waterproof shell pants and warm long underwear. Follow our guidelines for what to wear to help make your experience skiing or snowboarding a comfortable one, from head to toe.
bostonmillsbrandywine Logo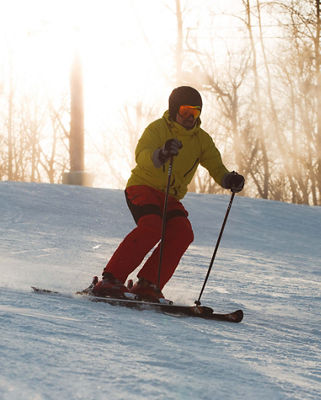 Insulating Layer
This is the middle layer(s) that help keep heat in and cold out. On a warm, sunny day you may not need an insulating layer... but bring one anyway, just in case. (It's better to be prepared, and you can store any unnecessary layers in one of our token-operated lockers.) Make sure that your insulating layer is loose enough to trap air between layers, but not so bulky that you have trouble moving. Comfort is key, and either fleece or wool sweaters work well in this layer.

Protective Layer
This is your outermost layer. Your jacket and pants which guard against the elements should be water resistant/water proof and wind resistant. It should always fit comfortably and never restrict your range of motion. Don't wear jeans or street pants!
Denim is not waterproof, so water will soak into the fabric and you will end up being cold, wet and miserable.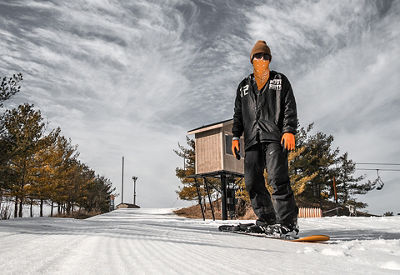 Wicking Layer
Layering up gives you the flexibility to add or remove layers as needed, depending on the weather and your activity. Follow a three-layer system for the best results:

This is the layer worn next to your skin. It should fit snugly (but not tightly) in order to keep moisture away from your skin. Avoid wearing cotton in this layer, as it will absorb sweat and snow, and make you cold! Turtleneck shirts, long underwear, footless tights, etc, work well in this layer.
Head & Face
HATS are a definite must, to keep you warm! Look for hats that are waterproof and windproof for maximum comfort. Here are some other head gear to keep in mind.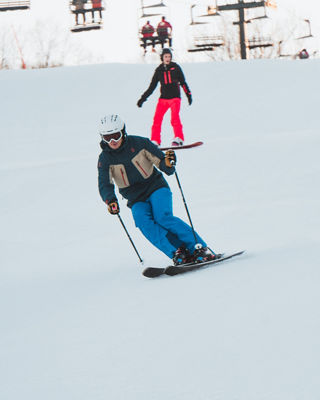 Sunglasses & Goggles
Sunglasses & Goggles are optional, but can make you more comfortable by reducing sun glare and keeping any natural snow out of your eyes. Look for 100 percent UV protection in sunglasses, and make sure that they fit snugly behind your ears. Goggles should form an uninterrupted seal on your face; watch for gaps, especially around your nose and extend above your eyebrows and below your cheekbones.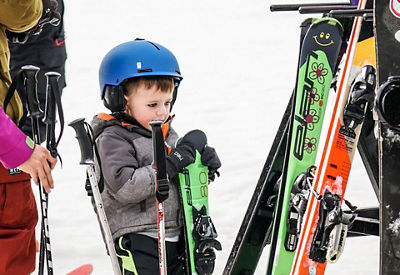 Ultimately, the choice of whether to wear a HELMET on the slopes is one of personal and/or parental choice. It's up to you to educate yourself about their benefits and limitations. NSAA, the trade association for ski areas across the country, has set up a good informational website called Lids on Kids. If you do decide to wear a helmet, make sure that you wear one specifically designed for winter sports!
Don't forget Sunscreen! Snow is reflective, and magnifies the sun's rays the same way that water in a pool or the ocean does. Putting on sunscreen at least a half hour before you hit the slopes is a great way to protect your skin.
Ski Ohio like never before with a more convenient way to rent equipment. Boston Mills & Brandywine offer online rental bookings this season, saving you both time and money. Book your rentals today!
Private Lessons
Learn To Ski Or Snowboard At Any Of Our Resorts
---

Private Lessons
Whether you have never been on skis or a snowboard before, or are interested in improving your existing skills, Boston Mills/Brandywine SnowSports School has a lesson option that will fit your needs.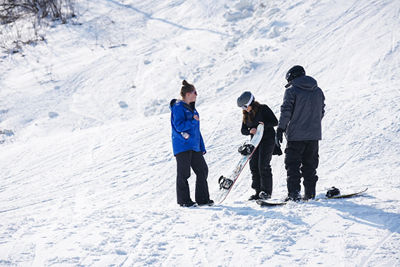 These one-on-one lessons are designed for the most personal attention to your skiing and snowboarding technique. Advanced reservations are strongly recommended. Lessons longer than one hour are also available.

For help in determining whether your child is ready for lessons, call our Snow Sports School at 800-U-SKI-241, ext. 2010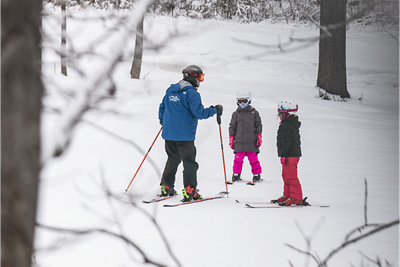 One hour of instruction for 2-4 people of similar age & ability (as determined by the Alpine Valley Snow Sports School) with their own instructor. Advance Reservations are recommended. Lessons longer than one hour are available upon request. You must provide the 2-4 students. We do not assign groups.

Participants must be at least 6 years of age for ski and 8 years of age for snowboard semi-private lessons.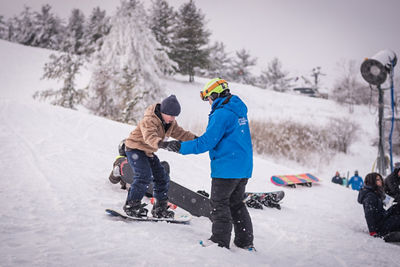 Kids Ski Academy
Our BMBW Kids Academy pro staff is specifically trained in ski lessons for kids, instructing the young rider--from beginner lessons through advanced levels in racing, freestyle, and beyond. Our approach uses positive, skill-based coaching, small group sizes, and mountains of fun to provide your child with the optimal snow sport experience.
The Kids Academy offers three exciting programs for teaching children to ski and snowboard-- Mogul Mites (ages 5-7) and Snow Squad (ages 8-14). Click any of the links below for details.
bostonmillsbrandywine Logo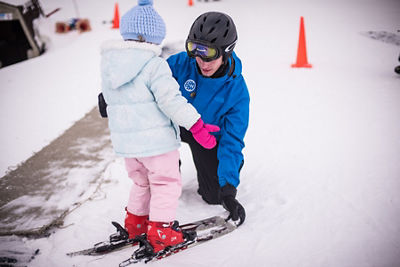 MOGUL MITES SKI PROGRAM (AGES 5-7)
Mogul Mites Skiers Explore The Mountain On A Quest For Extraordinary Thrills And Excitement.
Each week, Mogul Mites skiers are introduced to new ability challenges through on-slope games and technique-shaping activities. Our small group format provides the right setting for Kids Academy coaches to develop and enhance your child's skiing skills.
Program size is limited and reservations are taken on a first-come, first-served basis. Proof of age is required.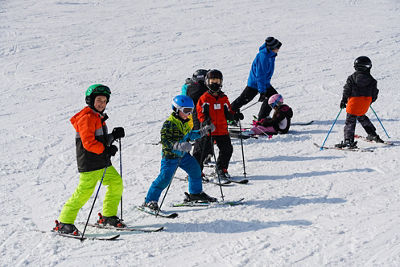 SNOW SQUAD SKI & SNOWBOARD PROGRAM (AGES 8-14)
Whether you're sliding/riding freestyle or just cruising the slopes—there's no boredom here. With our winter playground as their classroom, Snow Squad members expand their abilities under the guidance of experienced Kids Academy Coaches and Special Guest Pros.
Sliders and Riders of all levels are welcome in Snow Squad, and small group sizes help build confidence on the snow. Snow Squad winter enthusiasm keeps going long after the lesson is over!